The SPA at The Santa Maria Hotel & Golf Resort
Inspired by Panama's rich culture, tropical beauty and cosmopolitan spirit, The SPA at The Santa Maria Hotel & Golf Resort transports guests to new levels of health, wellness and relaxation. Choose from a diverse offering of signature treatments incorporating indigenous Panamanian healing traditions and seasonal, local ingredients.
The SPA is a 6,450-square-foot oasis offering five treatment rooms, including one couple's room with a private shower for two. Luxurious men's and women's locker areas are appointed with aromatic steam rooms, dry saunas and vanity areas with signature amenities and skin-care products.
The Serenity Relaxation Lounge welcomes you with organic refreshments and drinks before or after your spa treatment. High-quality nail services, waxing and hair services are also available in the full-service Beauty Salon, and the SPA Boutique has deluxe skin, hand and nail care products for sale.
Philosophy
A visit to The SPA is crafted to be an exceptionally personalized experience, with spa technicians working with each guest to ensure a holistic balance of treatments and services. Body art touch massages employ manual therapy techniques to assist muscle recovery and relax the entire body. Body treatments are designed to naturally nourish and replenish the skin, and customized facials promote beauty and revival.
Signature SPA Treatment
The Espiritu Santo Signature Massage is inspired by the power and vitality of the Flor del Espiritu Santo (Holy Spirit Flower, Panama´s National Flower) an incomparable wild orchid unique to Panama that embodies strength, beauty and serenity. This relaxing massage starts with an aromatic touch, imitating the orchid's natural fragrance. A soothing and firm effleurage – a form of massage involving a light circular stroking movement made with the palm of the hand – will help you achieve the perfect balance of mind and body.
Hours of Operation: Monday to Saturday, from 9:00 a.m. to 9:00 p.m. Sunday from 09:00 to 5:00 p.m.
In-Room Spa Services
Selected in-suite spa services are available to all hotel guests.
Spa Etiquette
For the purpose of ensuring a quiet atmosphere, please refrain from using mobile devices. We strive to respect all guests´ right to privacy and serenity. Towels, a spa bathrobe, sandals and grooming amenities will be provided for your use during your visit.
Health Considerations
Please inform the spa concierge or therapist of any health issues or concerns prior to treatment.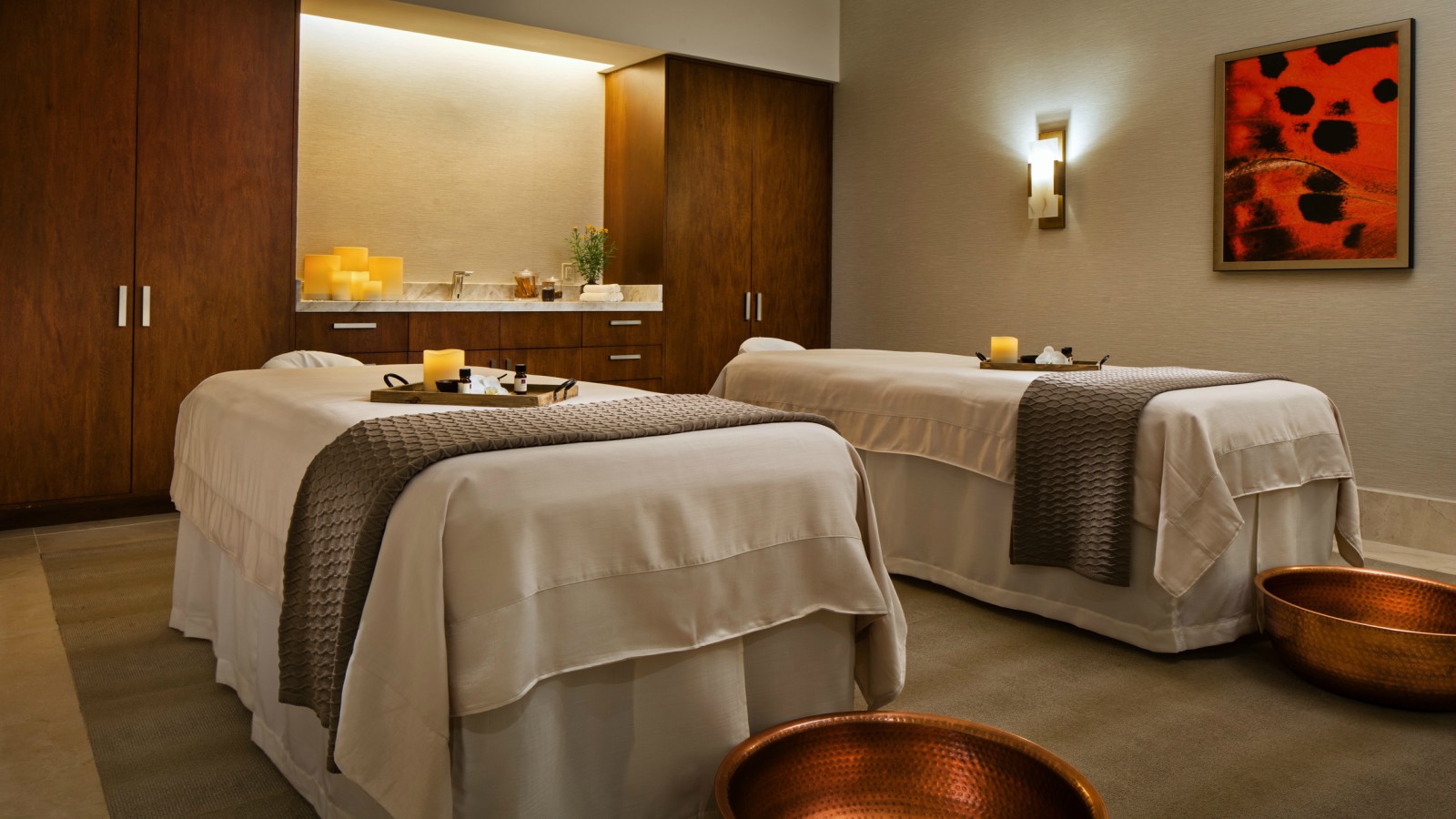 Spa Services
Health & Body Art Touch
Espiritu Santo Signature Massage – 60/90 min. Honoring the attributes and beauty of this emblematic flower; our Signature relaxing massage starts with an aromatic touch, imitating the natural fragrance that this flower delivers. A soothing and firm effleurage followed by light strokes movements, will help you achieve a perfect balance of mind and body.
Rosemary Muscle Recovery – 60/90 min. This therapeutic massage is designed to melt away muscular tension. Specific deep tissue techniques are carefully applied to invigorate sore muscles. Our Signature soothing strokes will detoxify your body. A warm arnica and rosemary herbal poultice is applied to promote tissue healing.
Herbal Sachet and Stone Thermotherapy – 60 min. A unique thermal therapy that combines the tender heat of local healing herbs and hot stones to achieve an increase in blood flow that will accelerates muscle relaxation and added flexibility of soft tissue. This therapy ends with a facial massage, using obsidian crystal stones to reawaken the spirit.
Aromatherapy – 60/90 min. This retreat starts with a holistic foot ritual. The combination of organic herbs scrub and a refreshing sea salt soak is the preamble of this aromatic experience. An exquisite collection of essential oils is available to create a unique therapeutic blend that will be used to customize a full body massage.
Maternity Massage – 60 min. A healthy way to melt away stress and promote well-being during pregnancy. This massage releases lower back tension and increase blood and lymphatic circulation to prevent swelling in legs and feet. Ideal to relax and calm the mind.
Immerse in Wellness – Nourishing Body Treatments
We highly value the ancient Panamanian traditions. Our nutritious, botanical body treatments incorporate them to achieve a healthy and toned skin.
Enjoy a sensory journey with a smooth body masque made of organic ingredients: virgin coconut oil, rosemary, aloe, cocoa and wild cinnamon.
Cacao & Coffee Santa Maria – 90 min. An organic coconut oil massage is the preamble of this nourishing treatment; followed by an indulgent full-body coffee exfoliation. A handmade obsidian stone piece will be used to gently remove the scrub. Your body will then be cocooning in a warm, organic cocoa mask to enjoy its antioxidants and nourish attributes.
Aloe & Coconut – 60 min. An exquisite balm of natural hydrating elements made of coconut oil, lavender essential oils and aloe turned into a healing body wrap. These plants' extracts will repair and nourish your skin after a sunny day at Santa Maria.
Sarigua Scrub – 60 min. Sarigua is an indigenous word that means "salt and water". Inspired by this term we have designed a gently body scrub made with local sea salt and essential oils body to remove impurities and to promote detoxification. A deeply hydrating cream massage is then provided to leave your skin soft, silky and glowing.
A Sense of Relaxation – 30 minutes
Calm Mind Touch – Based on the Ayurvedic tradition, this invigorating scalp massage and head treatment is designed to encourage total relaxation and a feeling of wellbeing and calmness. Neck and shoulder tension melts away through the myofascial release technique along with essential oils to balance and energize mind and body.
Smooth Soul & Stone – Improve your health and increase your energy level with this customized massage. It targets sore spots of the back, neck and shoulder to relieves pain and strengthen muscles. Smooth hot stones are used to reduce stress and soothe your soul.
Aromatic Crystals Renewal – This treatment starts with a gentle dry brushing to naturally exfoliate and stimulate lymph flow and blood circulation. Delicate sugar crystals and essential oils of coconut oil and rose are blended together into a nourishing balm to remove skin impurities and to leave your skin smooth and healthy looking.
Essential Foot Therapy – Applying the principles of reflexology, this treatment encourages the body's natural healing abilities by stimulating specific reflex points. This helps restore a healthy balance of body and mind.
Essential Skin Care – ¡A Healthy way to embrace Beauty!
Absolute Radiance – 60 min. A customized facial that combines the best of science and nature designed to help correct existing skin conditions using concentrated formulas to nourish and revitalize the skin. A deep cleansing and exfoliation is followed by a personalized treatment and mask tailored to the skin´s specific needs. The result is a luminous, nourished and hydrated complexion.
Pure Revival – 90 min. This treatment facial is designed to correct the visible signs of aging. After a deep cleansing and enzymatic exfoliation to stimulate the skin´s circulatory system, a highly effective cosmeceutical treatment is then applied to help collagen production, reduce UV damage and nourish skin with antioxidants.
Serenity – 60 min. Sensitive skin, environmentally stressed skin and sensitized skin benefit from this targeted treatment designed to calm, nourish and strengthen the skin. Calendula and Linden Flower Extract sooth and comfort while Chinese herbs strengthen.
Luxury BioEffect Treatment – 60 min. Embracing all the science and nature to promise a smooth and radiant skin. The exclusive Epidermal Growth Factor will promote a cellular signal repair, the result is a healthier dense, more hydrated, younger looking skin.
Luminous Restorer *– 15 min. This delicate area deserves a gentle approach to sooth visible signs of fatigue and age. Our intensive treatment is comprised of an eye masque and toning muscle massage to improve the flow of nutrients and oxygen to the skin surrounding the eyes.
*To be added to any 45 or 60 minutes treatments.
Spa Rituals
The Santa Maria Romance – 2 hours. Enjoy a perfect sensory experience with our Signature foot ritual while both of you taste an aromatic native tea. The natural blending of organic herbs, sea salt and a touch of coconut oil scrub will leave your sink smooth and ready to receive a nourishing herbal body wrap. A powerful moisturizing treatment will brighten and tone your skin. A relaxing body oil massage completes this experience.
Duo – 60/90 min. Our exclusive double treatment room allows you and your companion to enjoy a relaxing massage or a nurturing body treatment of your choice.
Marine Energizing Treatment – 90 min. Inspired by the healing power of the sea, this therapy is intended to stimulate metabolism balance and lymph circulation. A gently dry brush prepares the skin to be wrapped in a warm, natural seaweed mud. Trace elements and minerals will help to reduce water retention and refine the silhouette. To perform a revitalizing massage, a selected synergy of essential oils is presented to tailor your specific needs.
Improve your Round – After Golf Rewards
Hole 19th – 120 min. Enjoy the healing attributes of the aloe vera in this treatment designed to soothe, moisturize and prevent sunburn. Your therapist will perform a restorative manual technique to release specific points of tenderness. A customized facial is a part of this recovery treatment, designed to address your specific skincare concerns.
Golf Massage and Hydrated Treatment – 60 min. A specific treatment that prevents lower back injury. It focuses on realigning the deeper layer of muscles and connective tissue to relieve pain and increase flexibility. To complete this experience a stretching session will restore the proper movements to ensure the right golf swings. A firm massage performed with a soothing aloe balm will hydrate your skin after the round.
The Facial – for the golfer – 45 min. Specially designed for the needs of a man's skin, this facial focus on deep cleansing, exfoliation and hydration to keep your skin healthy and toned.
Salon Services
Hands and Feet retreat
Silver Manicure – 30 min.
Silver Pedicure – 30 min.
Gold Manicure – 45 min.
Gold Pedicure – 45 min.
Nail Polish change – 15 min.
Hair Styling Service
Blow Dry (short, medium, long) – 30 min.
Updo Hair Styling – 45 min.
Ladies' Haircut – 30 min.
Ladies' Haircut and Styling – 45 min.
Scalp and Hair Treatment – 15 min.
Hair Removal Service (Waxing Service)
Eyebrows, chin and lips -15 min.
Bikini, legs, back, under arms – 30 min
Bikini Waxing – 40 min.
Golf and Spa Men's Services
Beard Trim – 20 min.
Haircut – 30 min.
Golf Manicure – 30 min.
Platinum Pedicure – 45 min.